Meg 1 February at Anyone up for it? Mary's sampler is approximately 13" by I think I have about six days left on this.
| | |
| --- | --- |
| Uploader: | Kazrajind |
| Date Added: | 5 May 2010 |
| File Size: | 40.24 Mb |
| Operating Systems: | Windows NT/2000/XP/2003/2003/7/8/10 MacOS 10/X |
| Downloads: | 4796 |
| Price: | Free* [*Free Regsitration Required] |
Cross stitchEmbroiderySAL. Is there any chance of a paypal account or something setup for the school so that those of us who can't write a check in Pounds Sterling can make a donation as well?
Mary Wigham - USA version of the SAL!
I just wanted to share with you all that this is Quaker Week in the UK and my Mary is wighzm Edinburgh Quaker Meeting House every day this week for me to stitch in between the activities. So far so good!
I am hoping it is all resolved now. This was my first attempt at hemstitching.
MoonBeam 2 February at Thank you for the invitation Hazel. Saturday, 1 August Cheryl's update. I still need to decide what to do about the initials, I will probably miss them out all together or put the alphabet in their place.
I started Mary in August but due to health and camera problems I haven't got any pics to post yet. I apologise to faithful local needlework stores who have always supported Ackworth School by their sale of Needleprint charts, but these are exceptional circumstances.
Ivory Spring 29 May at I've nearly finished the first 6 pages now and I'm happy with the overall look so far. Have you noticed that a lot of the well known quilt designers are jumping on the small quilt bandwagon? Thank you for sharing this wonderful chart and would be happy may make a donation! The previous installments will be around for any newcomers to download.
N e e d l e p r i n t: Looking For Mary Wigham & Other Downloads?
Cindi - Southern California. Wednesday, 22 July Part 1 complete. The Ackworth charts are wonderful. Or would they be able to handle checks in dollars?
Wow, that's just brilliant, I'm so excited[but not here wignam week ; Will I be too late to join in when I'm back the following week?? I hope to use the original colours but haven't decided on a fabric yet.
Mary Wigham SAL UK
Thursday, 18 February She's finished! Also, maty main blog page is: This SAL will be my partner in my next summer holidays to Frances, so I hope I can send some pic of my progress or where I stitch at home when I come back. Lynn 1 February at Now she's wrapped up and away again, probably till Christmas when I'm on holiday again. There are a number of people who work with museums wifham other collections and pay license fees. Tuesday, 3 November Visiting Harrogate.
Monday, 4 October Progress on Mary - October Jacqueline thank you so very much for sharing this lovely chart. Anonymous 24 May at Poor Mary hasn't been in the stitching heap for a while as I was traying to get other stuff finished. I have yet to press it well and have it framed.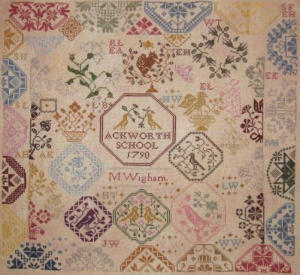 I will be watching for the post with great anticipation.